Tutoring services in Greater Vancouver area
Private Tutoring with Certified BC Teachers in Vancouver
Let us help you find some of the best tutors available in Vancouver. Our tutors are qualified to teach in BC, have tutoring experience and a good knowledge of the curriculum.
How much does a tutor in Vancouver cost from TTS?
TTS tutors charge $52/hr per hour.
For this cost, you can find a range of different tutors available in our database who are highly qualified and capable to cater to your needs.
Why hire a private tutor in Vancouver from TTS?
Hiring a tutor in Vancouver through Teachers' Tutoring Services assures you will get a qualified, experienced, professional teacher who is familiar with the curriculum in Vancouver.
We reply to every request personally . We have over 35 years of experience operating in Vancouver, and as such we are very familiar with the diverse needs of students
Additionally, we also have more than 150 tutors in Vancouver available to help you with your tutoring needs. The majority of our private tutors are BC certified teachers. In the rare case that our tutors don't have a teaching certificate, they have obtained a Master's Degree or a PhD, and all of them have tutoring experience. We have tutors for all subjects and levels in Preschool, Elementary, High School, Special Needs, and Adult Education.
More than 150 tutors available
Over 35 years of experience
Why hire a tutor through TTS?
TTS is the most experienced private tutoring service provider in Vancouver:
We are the longest operating, locally run tutoring service in Vancouver. We started providing tutoring services in Vancouver in 1983 and have been locally operating for over 35 years.
TTS has the largest selection of tutors in Vancouver to chose from.
The Vancouver School District is among the most diverse public school systems in Canada. TTS has the largest availability of professionally trained, BC certified teachers in Vancouver, so we can usually find a tutor to suit every student. We offer private tutors in Math, English, French, Physics, Chemistry.
TTS is a non-profit society, registered in BC.
That means we are accountable to our clients and our tutors. Our purpose is to help clients find the best tutor to suit their specific needs. Every client request is handled by our office staff in our office in Vancouver, personally –and every referral is done individually, taking your specific needs into consideration. Whether you contact us online or by phone, we take care to provide you with the best possible service.
No commitments or contracts.
When you hire a tutor with TTS there are no obligations – no contracts, no minimum requirements and no deposits are required. You're free to try it out(you do pay for the first lesson) and if the tutor is not the best fit, we have many other options to provide.
You select your private tutor
At TTS we have many tutors with experience teaching in Vancouver schools. We provide you with options and you chose the tutor who best suits your needs.
Peace of mind
Qualified online tutoring or in-person tutoring focused on fitting your needs.
Find tutors in Vancouver near you
We're local! TTS has tutors available both for online services as well as in person. A good portion of our tutors have experience working for the Vancouver School District and are licensed with the BC Teacher Regulation Branch. Below are some of the neighborhoods in Vancouver in which tutors are available.
Central Vancouver: Downtown Vancouver, West end, Yaletown, Coal Harbour, Gastown, Chinatown Vancouver and Downtown eastside
West Side of Vancouver: Arbutus Ridge, Dunbar-Southlands, False Creek, Granville Island/Fairview, South Cambie-Oakridge, Kerrisdale, Kitsilano, Marpole, Oakridge, Shaughnessy, South Cambie, West Point Grey
East Side of Vancouver: Commercial drive, Granville-Woodland, Hastings-Sunrise, Kensington-Cedar Cottage, Killarney, Mount Pleasant, Main Street-Riley Park, Renfrew-Collingwood, Riley Park-Little Mountain, Strathcona, Sunset, Victoria-Fraserview
South Vancouver: Marpole, Sunset, Victoria-Fraserview, Renfrew-Killarney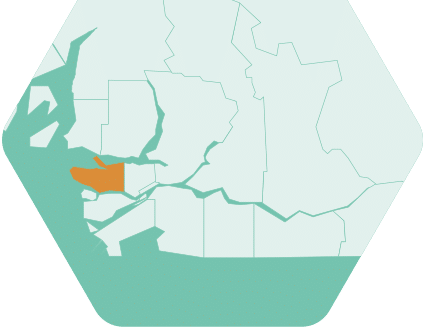 Still wondering about tutoring costs?
Cost of tutoring broken down
TTS is a non profit society – as such, our goal is to provide you with affordable, high quality tutoring, while minimizing cost. The bulk of the $52/hr hourly rate is paid to the tutor, while a small portion covers off TTS administration and staffing charges. In addition, a portion of the tutoring rate is donated to TAS Tutoring Aid Society, our registered BC charity that provides subsidized tutoring services to students that wouldn't otherwise be able to afford tutoring.
What people are saying about our tutors
Awesome Tutor
Hi we went with Sonia A. and have had two sessions with her so far. Another one scheduled for this Thursday. She is awesome!!!!!! Thank you so very much for recommending her. 😊
Math, Grade 9
Kim T.
Great, helpful service
We finally had our first session with Rachel and were really happy with her services. She was great with my kids and made the session fun and enjoyable for them. We will be using her again!
The TTS process overall has been really great, helpful and easy to use as well.
Thank you,
Primary 1 & 3
Naida S.
Great Match
My daughter has had her second tutoring session with Nicole and really likes her. She says Nicole explains things very well and she really likes her as a person. Thanks so much for suggesting Nicole.
Madeline S.
Math, Pre-Calculus, 11
Excellent Tutors
Ron is an excellent tutor, and he has really helped Justine. I used to work for TTS, and I really liked it, so I'm so happy my own daughter has been able to benefit from their tutors.
Very happy with TTS's service
We've been very happy with your service over the years.
Grade 10 Math
Nicole S.
Very accommodating and highly recommended
I highly recommend TTS and Silviu Z. I have had Silviu as my math and physics tutor for 3 years, he helped me from IB Math and IB Physics HL, all the way to Math 154, Math 152, Phys 101, and Phys 102 at SFU. Not only does he provide concise and easy to understand notes, he also will send lots of practice outside of tutorials if needed, and is very accommodating to student schedules. Many times he held extra sessions with me before major tests. He also tries to connect with his students, and is always very kind to give general life advice as well. I feel that my education was enriched with his help, and am super grateful for all the help from TTS and Silviu. 
College Math
Valmay V.
Responsive and excellent communicator
My daughter and Emily are getting along well.  My daughter is learning a lot which is the goal!  Emily is responsive and has excellent communication skills.   Although it is still early days, we are very pleased with her.
Anna K.
Knowledgeable and caring
Silviu has tutored me for high school math and physics (VSB), as well as university math and physics courses at UBC. During the breaks before classes start, Silviu has taught me important concepts for courses (such as MATH 102, MATH 103, and PHYS 131) so I can get ahead. In high school, due to COVID-19, we had barely covered integral calculus and I found it challenging. In university, for MATH 103, I was upset that I did not get the mark I had hoped for on my first midterm, but Silviu encouraged me to not give up and to not let this one mark discourage me from working harder. We continued to go through all the concepts extensively, I was able to improve, and I got 89% as a final mark. Without his help and encouragement, I don't think I would've been able to get this high of a mark. Not only is Silviu a knowledgeable tutor but he genuinely cares about his students.
As well, he places emphasis on common exam-type questions, concepts, and mistakes that students often make, which I found very helpful when preparing for exams. I especially recommend Silviu as a tutor for university math and physics courses because he can fill in the gaps in your knowledge and he knows what he's doing.
Megan W.
Kind, friendly, and flexible
We just finished a year of tutoring with Silviu for my son's Math Foundations 11 and 12 classes and Silviu's services were much appreciated. We had 1.5 hours per week online over Skype, which allowed for a good amount of time for a lesson, time for my son to work on questions with support and then time to go over the questions. My son liked how Silviu's explanations and materials were clear and understandable and how Silviu made sure what they were working on in tutoring mirrored what my son was working on in class. We found Silviu to be kind, friendly, and flexible and my son credits Silviu's regular help for helping him pass his two math courses this year.
Math Foundations 11 and 12
Lisa N.
After tutoring, our child became an enthusiastic learner
It's with pleasure I submit this testimonial for Sonia A. Sonia worked with our child during grades three to six to develop literacy skills in French and English as well as foundational math skills. In grade three, our child lacked confidence and was not able to perform at grade level. Now our child is finishing grade six with an excellent report card, and no academic concerns about entering grade seven. Sonia's instruction was instrumental in our child's transition to an enthusiastic learner who looks forward to school. I recommend Sonia A. unequivocally. 
English/ Math – Grade 6
Beverly W.