Tutoring services in Greater Vancouver area
Private Tutoring with Certified BC Teachers in Vancouver
Let us help you find some of the best tutors available in Vancouver. Our tutors are qualified to teach in BC, have tutoring experience and a good knowledge of the curriculum.
How much does a tutor in Vancouver cost from TTS?
TTS tutors charge $52/hr per hour.
For this cost, you can find a range of different tutors available in our database who are highly qualified and capable to cater to your needs.
Why hire a private tutor in Vancouver from TTS?
Hiring a tutor in Vancouver through Teachers' Tutoring Services assures you will get a qualified, experienced, professional teacher who is familiar with the curriculum in Vancouver.
We reply to every request personally .  We have over 40+ years of experience operating in Vancouver, and as such we are very familiar with the diverse needs of students
Additionally, we also have more than 150 tutors in Vancouver available to help you with your tutoring needs. The majority of our private tutors are BC certified teachers. In the rare case that our tutors don't have a teaching certificate, they have obtained a Master's Degree or a PhD, and all of them have tutoring experience. We have tutors for all subjects and levels in Preschool, Elementary, High School, Special Needs, and Adult Education.
More than 150 tutors available
Over 40+ years of experience
Why hire a tutor through TTS?
TTS is the most experienced private tutoring service provider in Vancouver:
We are the longest operating, locally run tutoring service in Vancouver. We started providing tutoring services in Vancouver in 1983 and have been locally operating for over 35 years.
TTS has the largest selection of tutors in Vancouver to chose from.
The Vancouver School District is among the most diverse public school systems in Canada. TTS has the largest availability of professionally trained, BC certified teachers in Vancouver, so we can usually find a tutor to suit every student. We offer private tutors in Math, English, French, Physics, Chemistry.
TTS is a non-profit society, registered in BC.
That means we are accountable to our clients and our tutors. Our purpose is to help clients find the best tutor to suit their specific needs. Every client request is handled by our office staff in our office in Vancouver, personally –and every referral is done individually, taking your specific needs into consideration. Whether you contact us online or by phone, we take care to provide you with the best possible service.
No commitments or contracts.
When you hire a tutor with TTS there are no obligations – no contracts, no minimum requirements and no deposits are required. You're free to try it out(you do pay for the first lesson) and if the tutor is not the best fit, we have many other options to provide.
You select your private tutor
At TTS we have many tutors with experience teaching in Vancouver schools. We provide you with options and you chose the tutor who best suits your needs.
Peace of mind
Qualified online tutoring or in-person tutoring focused on fitting your needs.
Find tutors in Vancouver near you
We're local! TTS has tutors available both for online services as well as in person. A good portion of our tutors have experience working for the Vancouver School District and are licensed with the BC Teacher Regulation Branch. Below are some of the neighborhoods in Vancouver in which tutors are available.
Central Vancouver: Downtown Vancouver, West end, Yaletown, Coal Harbour, Gastown, Chinatown Vancouver and Downtown eastside
West Side of Vancouver: Arbutus Ridge, Dunbar-Southlands, False Creek, Granville Island/Fairview, South Cambie-Oakridge, Kerrisdale, Kitsilano, Marpole, Oakridge, Shaughnessy, South Cambie, West Point Grey
East Side of Vancouver: Commercial drive, Granville-Woodland, Hastings-Sunrise, Kensington-Cedar Cottage, Killarney, Mount Pleasant, Main Street-Riley Park, Renfrew-Collingwood, Riley Park-Little Mountain, Strathcona, Sunset, Victoria-Fraserview
South Vancouver: Marpole, Sunset, Victoria-Fraserview, Renfrew-Killarney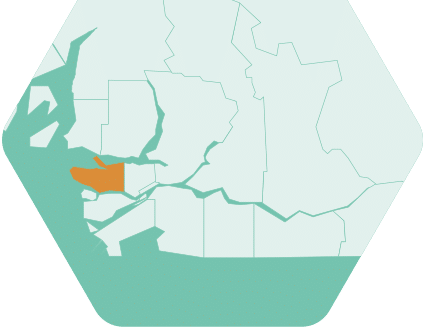 Still wondering about tutoring costs?
Cost of tutoring broken down
TTS is a non profit society – as such, our goal is to provide you with affordable, high quality tutoring, while minimizing cost. The bulk of the $52/hr hourly rate is paid to the tutor, while a small portion covers off TTS administration and staffing charges. In addition, a portion of the tutoring rate is donated to TAS Tutoring Aid Society, our registered BC charity that provides subsidized tutoring services to students that wouldn't otherwise be able to afford tutoring.
What people are saying about our tutors
Deep understanding
My daughter enjoyed working with Nadi T. and felt the session help her gain a deep understanding of the concepts she is working on. 
Physics Grade 11
Margaret M.
Very easy to work with
On Monday my daughter Justine had her first session with her math tutor Ian W. Justine said he was very easy to work with and he helped her with math questions right away. They have planned their next session, and I think they are a good match
Math College Level
Lori F.
Great Start and Service.
Hi! It was a great start with Melissa S.! She is professional and responsible. She mentioned she will talk to my son's school teachers about his school work which we were hoping. We're quite satisfied with her! And also I appreciate TTS, because it was very quick response and gave me some teachers info which included special needs kids expertise. Thank you so much!
Intermediate, Grade 4
Yayoi O.
The Best!
My son Nathan had his first session with Ron P. Nathan had Ron as a tutor for grade 12 chemistry and Ron really helped Nathan! We think Ron is the absolute best! Thanks again!
Chemistry, College
Rhonda T.
Excitement over learning Science
My son was really struggling to organize his time doing it solo through VLN. Purnima H. was a wonderful help and I'm grateful that she gave him some excitement and learning around science to offset the onscreen learning he was attempting to do.
Science, Grade 10
Lynette S.
An amazing teacher
B. has been working with Isaiah L. for 1.5 years for math support. Isaiah is an amazing teacher! He is knowledgeable, kind and patient. He teaches for the whole hour and stays focused.
Math, Grade 11
Vicki M.
Interactive Tutoring is beneficial
My daughter Naomi has had 2 tutoring sessions with Moira over the Christmas break.   Both sessions went very well.   My daughter was able to connect with Moira and understand her explanations.   Also, Moira's style is very interactive as opposed to the teacher doing most of the talking and the student mainly listening. Moira seems to be very good at assessing where the lesson needs to go next. We plan to contact Moira for further assistance as required in the future. Thank you.
Physics, Grade 11
Tammy K.
Knowledgeable Tutor
This semester I had Silviu's help in Stat 201 (Stats for the Life Sciences) at SFU. I have only done stats very briefly in the IB program in AA SL math. However, with his help and guidance, I got a very high mark. Silviu has helped me with many other courses in the past, and he is very knowledgeable and provides clear notes in Physics, Calculus, and Statistics. If you're in need of a university level tutor in those subjects, reach out to Silviu Z or TTS!
Stat 201, University
Valmay V.
Helpful Tutor
Hi, my lesson last night with Azita went very well, I really enjoyed it. Her explanation was very helpful, and overall I thoroughly enjoyed the session. 
Pre-Calculus Math, Grade 11
Carly W.
Awesome Tutor
Hi we went with Sonia A. and have had two sessions with her so far. Another one scheduled for this Thursday. She is awesome!!!!!! Thank you so very much for recommending her. 😊
Math, Grade 9
Kim T.